I've been a long­time palm pilot user…from the days of the Palm Pilot Pro­fes­sion­al, through the Palm III, the Palm V to my pre­vi­ous Zire 31. Of all the sys­tems upgrades, none have impressed me more than this one.…my upgrade to a Palm TX. Wow…what an upgrade too. Sharp­er, high­er res­ol­u­tion screen, faster pro­cessor, WiFi, Bluetooth, lots of things you'd expect to find on a 'real' com­puter. I'm writ­ing this art­icle on it, in fact.
For all the power, the unit is still pock­et-sized.
At the time I pur­chased my TX, there was a spe­cial bundle avail­able — the key­board was included. At the time I scoffed at it, being a long-time palm user, I knew Grafitti like the palm of my hand (sorry). But now, after using it for a few weeks, I'm begin­ning to appre­ci­ate it.
You don't need the key­board for short notes and the like, but if you're going to a meet­ing, why haul a rel­at­ively huge laptop when you can bring these small little items.
Update: If you are con­sid­er­ing upgrad­ing to the TX, then check out Palm's TX Upgrade Guide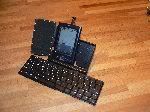 The key­board is pretty close to a full size key­board, but the keys are a bit sens­it­ive, and some are not 'quite' in the places you expect them. I find the back­space key and the caps-lock keys are very easy to strike by acci­dent.
The key­board works through the IrDa port. It's powered by two AA bat­ter­ies, and requires a driver to be installed on the Palm device. Since it is a smal­ler key­board, I do find my fin­gers will cramp up after 20 minutes or so of con­tinu­ous typ­ing. Fine time for a break.
The screen is very crisp. On some applic­a­tions, you can select fonts that are almost unread­able due to their size, are still crisp and clean. Yes, it is a very nice screen.
Upgrad­ing to the TX from my Zire was reas­on­ably simple. I un-installed the Palm Desktop from my PC, installed the updated Palm Desktop soft­ware that came with the TX, and then rein­stalled my applic­a­tions.
I had used a 256mb SD card on the Zire, so I moved it into the TX. Almost everything worked…there were a few older games that crashed, but noth­ing sig­ni­fic­ant. All my eBooks work fine, though I have installed new­er ver­sions of my read­ers (Pluck­er, X, Y, Z).
Read­ing eBooks on the high­er res­ol­u­tion screen requires a bit of fore­thought. Land­scape and Por­trait modes now are viable options in most read­ers. Some expand to fill the screen, oth­ers stay at the 'stand­ard' Palm screen width, regard­less of the page ori­ent­a­tion.
Also, with the abil­ity to use high­er res­ol­u­tion fonts, you can fit more words on the page, and it is pos­sible to have text that is so small it's almost unread­able. Anoth­er minor adjust­ment I had to make.
Ok, so that got me to where I was before with the Zire. Now for the new toys.
WiFi opens up a whole new realm of use for my Pilot. Now, I can browse web pages using the Blazer built-in browser. Opera also has a browser that will work with the TX and I've just star­ted play­ing with it.
Email is also more eas­ily avail­able. I nev­er did use the Out­look con­duit to sync my email…the cable hot­sync to email cli­ent to email serv­er pro­cess just seemed too cum­ber­some.
Now, I simply press the Get but­ton on Versa Mail and as long as I'm with­in range of an open WiFi node (or my home WiFi net­work) I get my Gmail. Poof done.
I've not used the Bluetooth func­tion­al­ity yet, but am temp­ted to pick up a small bluetooth enabled GPSr for GeoCach­ing. Oth­er 'cach­ers have used it with great suc­cess.
Bat­tery life seems reas­on­able, though the Zire was awe­some. I think I'll write it off to the extra power needed to power WiFi. There are third-party power man­agers avail­able, and I may look at one or two in the future.
For times when your bat­tery does run low, the TX can oper­ate and be trickle charged through the Hot­Sync cable.
Unlike the Zire, the TX doesn't have a stand­ard USB mini inter­face sock­et on the unit for Hot­Syncing. Palm has gone back their pro­pri­et­ary cable sys­tem, which means one more cable to pack and haul around — unlike the Zire which used the stand­ard USB mini. Maybe there's a reas­on the went to it, but I much pre­ferred the stand­ard USB solu­tion I had with the Zire.
One new and inter­est­ing applic­a­tion is Inter­net Radio. Using the Mundu Radio cli­ent, I was eas­ily able to stream tunes to my trusty TX. Cur­rently the cli­ent is lim­ited to 24kbps, but that's reas­on­able and leaves more band­width for you to surf while groov­in' to the tunes.
Well, that's enough for one post…whew! Next up — the Pro­porta Alu-Leath­er case for Palm Tung­sten T5 and TX. I'll be writ­ing about my exper­i­ences with it in a week or two, but the very early opin­ion is 'very nice case!'.
Tech­nor­ati Tags: Palm TX, TX, Palm, Pilot, Upgrade, Review, Art­icle, Opin­ion