I've been a longtime palm pilot user…from the days of the Palm Pilot Professional, through the Palm III, the Palm V to my previous Zire 31. Of all the systems upgrades, none have impressed me more than this one….my upgrade to a Palm TX. Wow…what an upgrade too. Sharper, higher resolution screen, faster processor, WiFi, Bluetooth, lots of things you'd expect to find on a 'real' computer. I'm writing this article on it, in fact.
For all the power, the unit is still pocket-sized.
At the time I purchased my TX, there was a special bundle available – the keyboard was included. At the time I scoffed at it, being a long-time palm user, I knew Grafitti like the palm of my hand (sorry). But now, after using it for a few weeks, I'm beginning to appreciate it.
You don't need the keyboard for short notes and the like, but if you're going to a meeting, why haul a relatively huge laptop when you can bring these small little items.
Update: If you are considering upgrading to the TX, then check out Palm's TX Upgrade Guide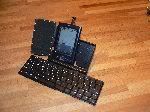 The keyboard is pretty close to a full size keyboard, but the keys are a bit sensitive, and some are not 'quite' in the places you expect them. I find the backspace key and the caps-lock keys are very easy to strike by accident.
The keyboard works through the IrDa port. It's powered by two AA batteries, and requires a driver to be installed on the Palm device. Since it is a smaller keyboard, I do find my fingers will cramp up after 20 minutes or so of continuous typing. Fine time for a break.
The screen is very crisp. On some applications, you can select fonts that are almost unreadable due to their size, are still crisp and clean. Yes, it is a very nice screen.
Upgrading to the TX from my Zire was reasonably simple. I un-installed the Palm Desktop from my PC, installed the updated Palm Desktop software that came with the TX, and then reinstalled my applications.
I had used a 256mb SD card on the Zire, so I moved it into the TX. Almost everything worked…there were a few older games that crashed, but nothing significant. All my eBooks work fine, though I have installed newer versions of my readers (Plucker, X, Y, Z).
Reading eBooks on the higher resolution screen requires a bit of forethought. Landscape and Portrait modes now are viable options in most readers. Some expand to fill the screen, others stay at the 'standard' Palm screen width, regardless of the page orientation.
Also, with the ability to use higher resolution fonts, you can fit more words on the page, and it is possible to have text that is so small it's almost unreadable. Another minor adjustment I had to make.
Ok, so that got me to where I was before with the Zire. Now for the new toys.
WiFi opens up a whole new realm of use for my Pilot. Now, I can browse web pages using the Blazer built-in browser. Opera also has a browser that will work with the TX and I've just started playing with it.
Email is also more easily available. I never did use the Outlook conduit to sync my email…the cable hotsync to email client to email server process just seemed too cumbersome.
Now, I simply press the Get button on Versa Mail and as long as I'm within range of an open WiFi node (or my home WiFi network) I get my Gmail. Poof done.
I've not used the Bluetooth functionality yet, but am tempted to pick up a small bluetooth enabled GPSr for GeoCaching. Other 'cachers have used it with great success.
Battery life seems reasonable, though the Zire was awesome. I think I'll write it off to the extra power needed to power WiFi. There are third-party power managers available, and I may look at one or two in the future.
For times when your battery does run low, the TX can operate and be trickle charged through the HotSync cable.
Unlike the Zire, the TX doesn't have a standard USB mini interface socket on the unit for HotSyncing. Palm has gone back their proprietary cable system, which means one more cable to pack and haul around — unlike the Zire which used the standard USB mini. Maybe there's a reason the went to it, but I much preferred the standard USB solution I had with the Zire.
One new and interesting application is Internet Radio. Using the Mundu Radio client, I was easily able to stream tunes to my trusty TX. Currently the client is limited to 24kbps, but that's reasonable and leaves more bandwidth for you to surf while groovin' to the tunes.
Well, that's enough for one post…whew! Next up — the Proporta Alu-Leather case for Palm Tungsten T5 and TX. I'll be writing about my experiences with it in a week or two, but the very early opinion is 'very nice case!'.
Technorati Tags: Palm TX, TX, Palm, Pilot, Upgrade, Review, Article, Opinion