[ This item ori­gin­ated at my pre­vi­ous (now defunct) blog bradblog.info — copy retrieved from the Inter­net Archive]
A while ago I man­aged to lay my hands on a refur­bished Xbox for a fairly reas­on­able price. Great, methinks. A game con­sole and a DVD play­er, all rolled into one. And hey, it'll even play music from the built in hard drive too¦ but not stock from the fact­ory. No, my friend, you have to void the Microsoft war­ranty and mess with the happy tech­no­logy that lies bur­ied with­in your game con­sole. Once you do that, you then have unlocked the power of your Xbox, and cre­ated a Monster¦here's how I did mine¦
Accord­ing to the folks on Xbox Linux:
The Xbox is a leg­acy-free PC by Microsoft:

Intel Cel­er­on 733 MHz CPU
nVidia GeForce 3MX
64 MB of RAM
8⁄10 GB hard disk
DVD drive
10⁄100 Eth­er­net
As on every PC, you can run Linux on it.
An Xbox with Linux can be:

a full desktop com­puter with mouse and key­board
a web/email box con­nec­ted to TV
a serv­er or router
a node in a cluster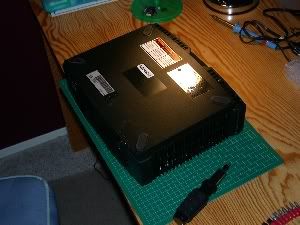 Well¦yes, it is, so why not pry the cov­er off and see what's under the hood!
With my trusty torx screw­driver in hand, I hand­ily peeled back the four rub­ber feet and two warn­ing labels, unscrewed the case and began my explor­a­tions. Now, I did­n't do this without first read­ing many excel­lent tutori­als and guides, mostly from the good folk over at xbox-scene.com. You can nev­er read too much.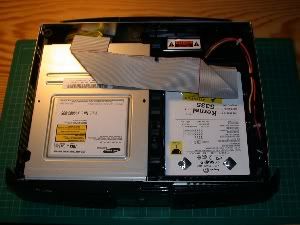 But back to the task at hand. Case cov­er set aside, this was my first look at the innards.
The grey box on the left with the Sam­sung label is the DVD/CD Rom drive¦making the grey box on the right the 10GB HD. Both must come out before you gain access to the mother­board. More unscrew­ing.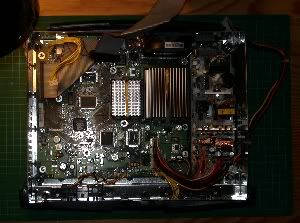 Thor­oughly unscrewed now, here's what the mother­board looks like. Mine appears to be a ver­sion 1.3¦it's import­ant to know that when you're installing the mod chip, as each board has its own unique lay­out.. Power sup­ply sec­tion over on the right, fan, CPU and Graph­ic pro­cessor the shiny sil­ver things in the middle¦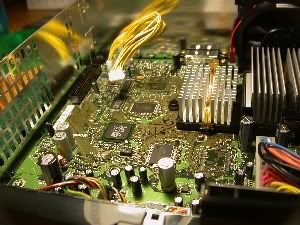 and the area we're con­cerned with, under the hanging yel­low cable bundle. This is where we're mount­ing the pin head­er that the mod board will con­nect to.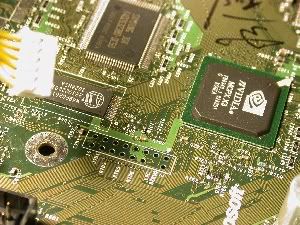 Yes, that double row of holes.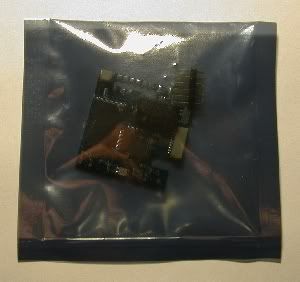 I guess before I get too car­ried away, I should intro­duce you to the mod board I selected¦the OzX­odus Xeni­um (I know, where do they come up with these names).
The reseller I pur­chased it from shipped it overnight, Canada Post, triple-bubble-wrapped.
Very nice and it arrived in per­fect con­di­tion.
And here's what it looks like out­side of the anti-stat bag. Nice little unit.
Ok [here I left the art­icle for a few weeks as life, yard­work, work, and oth­er things happened], now that we've heated up the sol­der­ing iron, we're ready for some hot met­al-melt­ing action!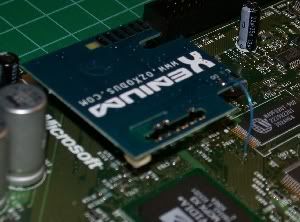 Of course, I was more con­cerned with actu­ally sol­der­ing the pin-head­er to the mother­board than actu­ally tak­ing pic­tures of the pro­cess. Suf­fice it to say that after a bit of del­ic­ate work, one false start where the pin head­er pins kinda melted the plastic head­er and slid through (provid­ing a less-than-adequate con­nec­tion) I have suc­cess.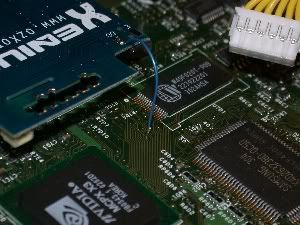 Make note of this odd little blue wire. This is the D0 (Dee-Zero) wire. It can be soldered in numer­ous loc­a­tions. This top-mount loc­a­tion is less than optim­al, as the hole you have to find is very tiny, and not that great for sol­der­ing to. In the end, I ran a longer wire through a hole in the mother­board to an under­side D0 spot that was lar­ger and easi­er to solder to¦making a much bet­ter con­nec­tion.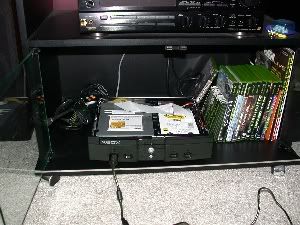 And here's my happy little toy installed and ready for test­ing.
Viola!! It works¦and in the weeks since, I've man­aged to util­ize the rather cool Xbox Media Cen­ter (one of the key reas­ons for doing this mod).
Very nice. Pos­ted by Brad Gri­er at July 4, 2004 09:49 PM
Tech­nor­ati Tags: Xbox Mod, Xbox, Xeni­um, Mod, Hack, hard­ware, archive, homebrew