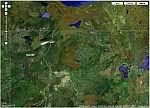 So I saw this post on BoingBoing about an article describing using Google Earth to discover ancient impact craters — and remembered a post I made on a previous blog (now lost to history) about doing just that with Google Maps (satellite view).
So, here's where this image was made in GE:
The location is at:
N 59 08 12.29
W 115 12 40.07
Which puts it in the northwest corner of Alberta.
I checked the University of Brunswick Earth Impact Database — nada.
…so, is it real, or something else?
Technorati Tags: crater, earth, google earth, impact, database, canada, alberta